© Copyright 2003
The Poetry Lady
All Rights Reserved


A Little Bit of Nonsense
This attractive hardcover book is filled with 65 whimsical poems by The Poetry Lady herself, Denise Rodgers, and illustrated by Michigan artist, Julie Martin. It is divided into the four sections listed below. Click on each of the sections to see sample poems.

I. Characters I Have Known
Everyone from Herbert Hillbert Hubert Snod (so fond of eating all things odd) to Matthew Brindle, Upside Down, a poem about a man who insists on living his life with his nose to the ground and his feet in the air.

II. Monster Meat Stew
Poems about everyday food that is either fun or awful to eat — as well as poems about such delicacies as monster meat stew and lizard meat pie!

III. Noah's Ark
A visit back in time with Noah, who forgot to pack dinosaurs and saber-tooth tigers on his ark — and a fun look at hippos, sharks and other animal kingdom regulars.

IV. Loony Ideas
The Poetry Lady uses this section of the book to ponder on important questions of the universe. For example: do dark brown cows give chocolate milk, and white cows give vanilla? Is overfeeding baby chimps the way zoos make gorillas? From these deeply philosophical questions to simple ponderings such as how to go about mining for a poem, the poetry in the Loony Ideas section is perfect for budding philosophers — and poets!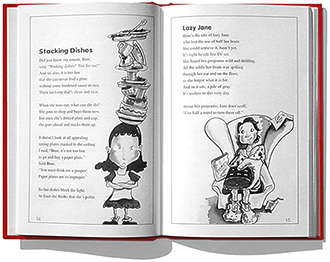 Read Poems from
A Little Bit of Nonsense Online