© Copyright 2003
The Poetry Lady
All Rights Reserved

Indian Names
by Denise Rodgers

The natives had language before white men came.
Their words, filled with large sounds, gave cities their names.
Leelanau's beauty, a gift to the sight,
was Indian language for "Delight of Life."

The islands that both bear the name "Manitou"
carry the meaning "Great Spirit" right through.
"Menominee" rolls off the tongue very nice.
Who knew that its meaning is "country of rice"?

When morning is near and it's night that is done,
think of "Petoskey," which means "rising sun."
Go to Lake Erie and please notice that
the lake is NOT creepy, it's named for a "cat."

Are these too tricky?
Your tonue's in a wrench?
Wait till we bring up the names from the French!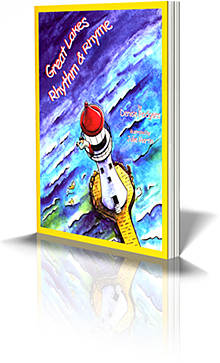 Read other
poems by
Denise Rodgers
from
Great Lakes
Rhythm & Rhyme
online: