© Copyright 2003
The Poetry Lady
All Rights Reserved

Ghost Ships
by Denise Rodgers

The storms and the winds of the Great Lakes are deadly
and ships have been lost in the gales.
And though all may sink to the depth of the lakebed,
some say they can still hear the wails.

Appearing in mists and the fog of the night as
they never will venture by day,
the ghosts of the lake preffer shadows and darkness
as that is their charge and their way.

It's ghostly, it's ghoulish,
if just a bit foolish
to sesarch for these sailors at noon.
The ghost ships take charge
in the cover of darkness
and sail by the light of the moon.

The waters are haunted,
but here is a promise
you'll not find one ghost by mistake.
The men of the ghost ships won't
haunt your warm bedroom;
they only appear on the lake.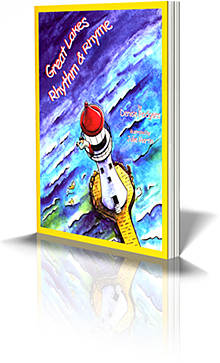 Read other
poems by
Denise Rodgers
from
Great Lakes Rhythm & Rhyme
online: